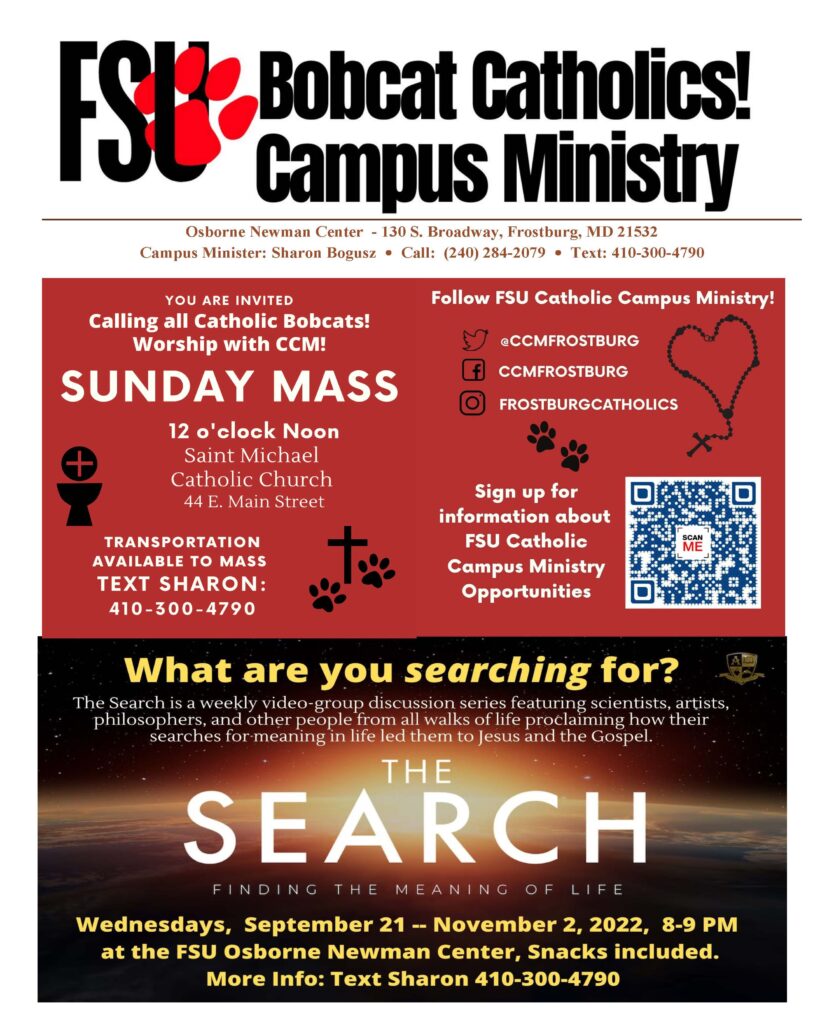 Welcome to the Osborne Newman Center – Catholic Campus Ministry at Frostburg State University
Catholic Campus Ministry is a student organization on the FSU campus. Divine Mercy Parish, and the Archdiocese of Baltimore support this ministry through prayer, friendship and financial sponsorship.
Our Mission — to foster strong disciples of Christ among the Young Church.
We Invite — FSU students to reflect on the meaning of life and consider and how God blesses us uniquely and beautifully for a divine purpose in this time and place of human history.
We Welcome — This means that no-one is left behind. We welcome all as we would Jesus himself. We take seriously Jesus' own words in the Gospel of Matthew, 25:40"Whatever you did for the least of my people, you did for me."
We Offer a Spiritual Home — The Osborne Newman Center is a safe place where FSU students may explore questions of faith and discover the eternal value of a relationship with Jesus Christ.
We Accompany — We propose and provide witness to the Good News of the Gospel—we never impose. The Osborne Newman Center helps students as they become the person that "God dreams them to be."
We Equip for life in Christ — God expects nothing more from us than to live the life for which we were created. We are called to invest in ourselves and God's mission for the world by learning and living according to his call and teachings. Catholic Campus Ministry does this by offering opportunities to deepen our understanding of Christ's teaching to "love our neighbor" through:— a commitment to prayer — celebration of the Catholic sacraments — regular Sunday worship — study of the scriptures — formation of conscience — "faith into action" through servant leadership.
Location: The Osborne Newman Center, the home of Catholic Campus Ministry, is the building with the "green roof" located along University Drive behind Annapolis Residence Hall. We have a meeting room/lounge with comfortable furniture to relax, visit with friends and study. (For Google Map Directions use this address: 103 S. Broadway, Frostburg, MD 21532)
Internet and TVs with streaming capabilities are available. Our large meeting room – Bishop Murphy Hall – features a kitchen — and is available for use by FSU student organizations and staff (subject to availability of our Campus Minister). For information about using the Osborne Newman Center, submit your request in writing via e-mail: ccm-s.bogusz@frostburg.edu
To contact Sharon Bogusz, Catholic Campus Minister, please email: ccm-s.bogusz@frostburg.edu or call: 240-284-2079