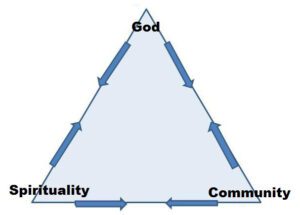 Our Operation Model
Catholic Campus Ministry is a student organization on the FSU campus. We offer students, faculty, and staff – spiritual, educational, social, and service opportunities. Our goal is to help and challenge individuals to deepen their faith and positively affect the world around them. We want to cultivate Christian values and intellectual prowess in a comfortable and enjoyable environment where students' opinions matter. We are Roman Catholic in focus but people from any faith are welcome to join us in all of our activities. We are sponsored by the Archdiocese of Baltimore.
The Osborne Newman Center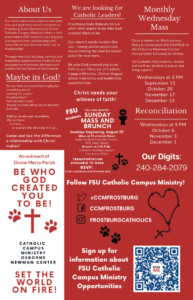 Location:
The Osborne Newman Center, the home of Catholic Campus Ministry, is located on University Drive between Annapolis Residence Hall and Campus Police. We have a meeting room/lounge with comfortable furniture to relax on/study. We have a TV with a VCR and DVD player. We also have a large meeting room – Bishop Murphy Hall – which has a kitchen for the convenience of those that use our building. The Osborne Newman Center is open daily.
Campus Minister:
Ms. Sharon Bogusz is the Catholic Campus Minister and is available to students, faculty, and staff. She is an employee of the Archdiocese of Baltimore and has many years of experience in Youth and Young Adult Ministry. She is available for guidance, spiritual direction, or just to talk.
All are invited to attend the 12PM Mass at St. Michael Church on Sunday. Transportation is available by request. Brunch will be served at the Newman Center after Sunday Mass.
Phone: 240.284.2079
Email: sharon.bogusz@archbalt.org
For more information:
http://organizations.frostburg.edu/ccm
https://www.instagram.com/frostburgcatholics/
Please remember: EVERYONE is welcome to CCM events. Bring your friends and always know that whether you've been away for a bit, it's your first time coming, or you are at every event you are more than welcomed here and your presence enriches everyone's experience and faith. Don't be shy and try something new!
Emergency Contact Information and Permission to Contact
Click here for the form.
Weather Cancellation Phone Number
An announcement about the cancellation of Religious Education will be available at 8AM SUNDAY morning at the following number: 240.727.4141